NLE Sponsored Rider
Zack Williams
Congratulation's Zack! Loretta Lynn's Class 450A CHAMPION!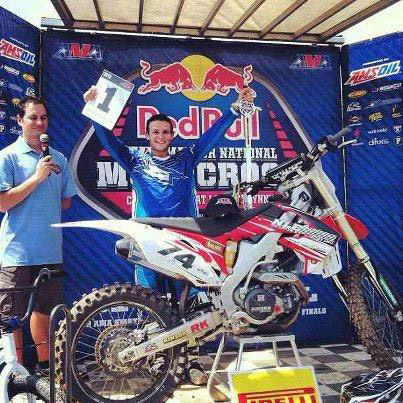 Zach Williams and Jesse Wentland went into the final moto of the 450cc A class all locked up, sharing 4-3 moto finishes after their first two outings. In the final moto, Williams and Wentland went at it, and it was Williams who took the class championship by finishing one spot ahead of Wentland in second.
#74 - Elko, Minnesota, Age 18 - Twisting throttle since age 4.
Zack Williams is really stepping up to the plate. Zack is known for his hard work ethics. We have really been able to see how bad Zack wants to win this year. Pushing himself 110% no matter what scenario comes about. A rider that never complains about having to work hard is a rider that we're proud to work with. Zack is a strong kid, and he has the will and determination to be the best. Taking it to the next step means following schedules of nutrition, and daily schedules here for moto's and fitness. Being on time shows us the eagerness of an individual which Zack is a leader of, always ready and prepared for the next obstacle. Zack will be representing NuLook Exteriors this year on the track. Sponsored by: Eleven10 Mods, Pro-Taper, AXO, and ClubMX Training Facility, be sure to look for the flashy number 74 aboard a CR250F this year.