Products & Materials
For the past 40 years we have been producing the highest quality commercial metal products in the industry. Our long standing relationship with our suppliers along with our in house equipment allows us to provide reduced costs and lead times.
Materials
26 Gauge – 18 Gauge Steel
3mm – 4mm Composite Panels
All materials are available in a large variety of standard colors, most with a Kynar 500 paint finish.
Special order colors are available with a minimum square foot purchase. Please call or e-mail for pricing.
We also specialize in galvanized & paintable ready metals.
We use the highest quality materials in the industry, all made of recycled materials. See our "Gone Green" section
Products
Below is a small sample of products we supply. Most of these products can be fabricated from steel or aluminum. We can also fit your needs for most custom fabrication of light gauge metals.
Please call or e-mail us with any questions regarding custom products you may require.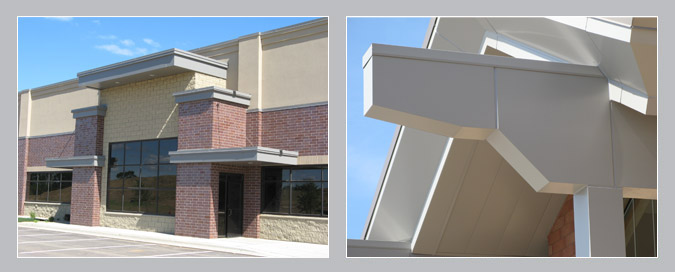 Aluminum Composite Systems - Composite Wall and Fascia panel systems are becoming increasingly popular in today's exterior metal industry and for good reason. Light weight yet durable with a paint finish made to last these versatile systems help to add a distinguished look to any building. These panels can be installed over a variety of substrates using a route and return style, and are available in 3mm, 4mm, and 6mm thicknesses. The two main options for installation are a "wet" system in which panels have a ½" caulk joint or are butted up to one another, and a "dry" system in which you use an extrusion clip system with a recessed color strip between the panels. Combine this with our in house CNC routering table and we are able to produce and install composite panels for a wide range of uses including wall panels, column covers, fascia systems, and soffits.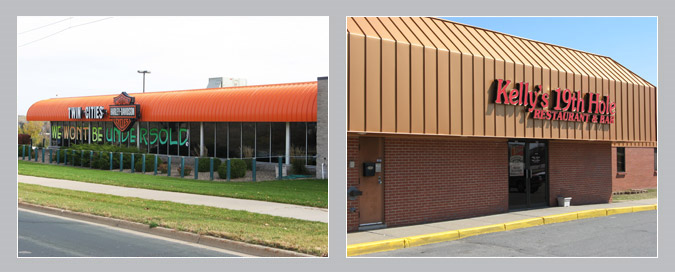 Standing Seam Metal Roofing - Standing seam metal roofing is a long time staple in the commercial and residential roofing industry and we have been providing and installing these roof systems for over 40 years. We have the capability to run the panels in our plant or on site, depending on quantity and panel lengths. We also have the ability to run curved panels in house or on site with our curved panel rollformer. Typically fabricated from 24 gauge steel in a wide variety of standard and custom colors we can produce and install standing seam panels for almost any application.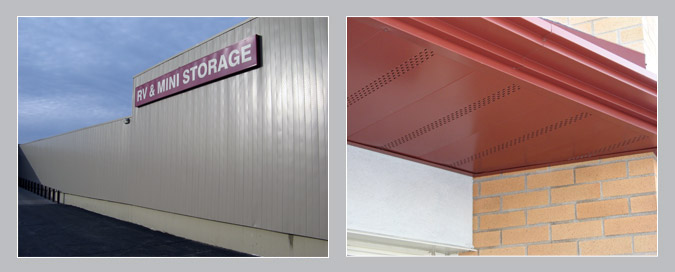 Flush Seam Wall & Soffit Panels - Flush seam wall & soffit panels are a sturdy yet versatile panel system with no protruding ribs for a smooth clean look. Our 1" deep panels are fabricated in house either solid or vented depending on need, from 24 gauge steel in a wide variety of standard and custom colors.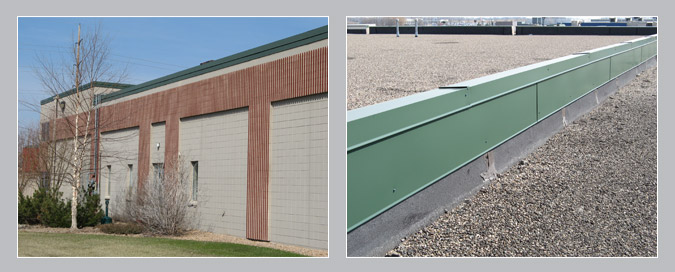 Coping Cap, Fascia, and Metal Flashings - Nu Look Exteriors has been fabricating and installing coping cap, fascia, and metal flashings for over 40 years. Also our ability to fabricate the necessary pieces accurately and quickly has made us a leading supplier of these materials for a variety of roofing and siding companies. We can fabricate galvanized and painted metals from 18 gauge to 26 gauge, along with copper and stainless steel.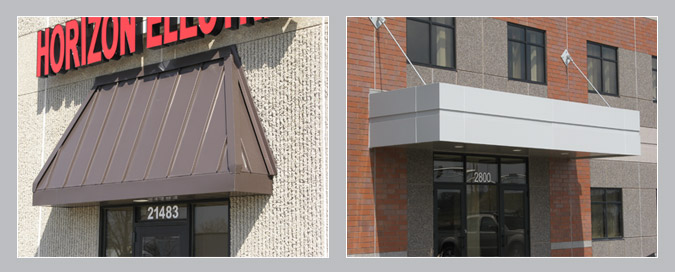 Custom Canopies - Nu Look Exteriors has been a leader in fabricating and installing custom canopies for commercial applications such as entry canopies, dock canopies, or window dressings. We use light gauge framing, standing seam panels or composite materials, along with flush seam soffit panels to create a look that meets your needs, style, and budget.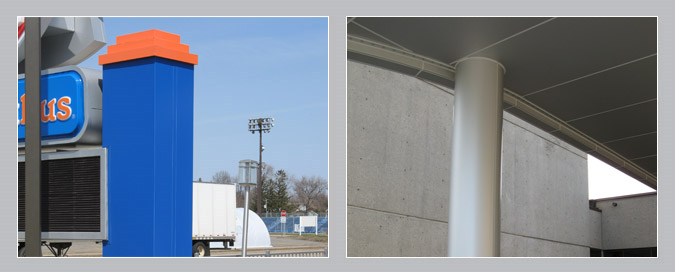 Column Covers - Nu Look Exteriors can provide a variety of options for column covers; whether round, square, or rectangular in shape we can provide composite panels, aluminum plate panels, or 24-22 gauge steel to meet your style and budget. All of these projects are available in a wide selection of standard and custom colors.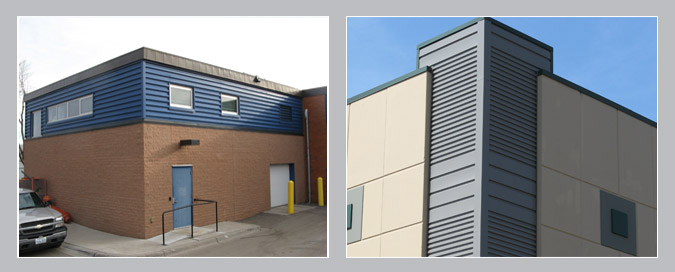 Roofing and Wall Panels - Nu Look Exteriors has extensive experience in working with exposed fastener wall and roof panels, in particular the Firestone Una Clad "Commercial/Industrial Series" panels and the "Agricultural Series" panel systems. These high strength panels come in a variety of profiles to provide a bold look that will meet your style and budget.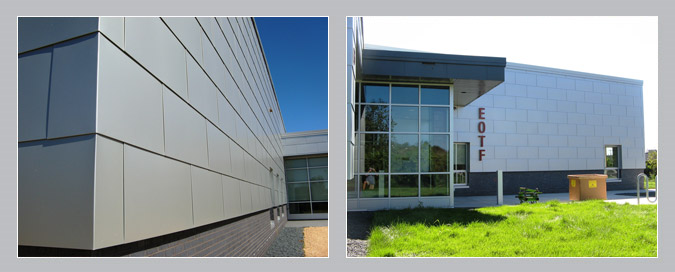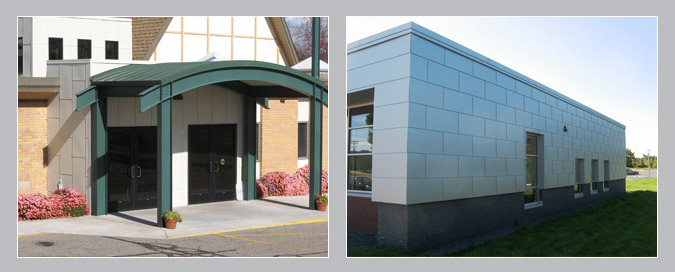 Flat Lock Wall Panels - Flat lock wall panel systems are available in square, rectangular, and diamond shapes and can be installed horizontally or vertically. Typically made of 24 or 22 gauge steel in a wide range of standard or custom colors, along with copper or zinc they utilize hemmed edges that overlap, concealing the fastening clips.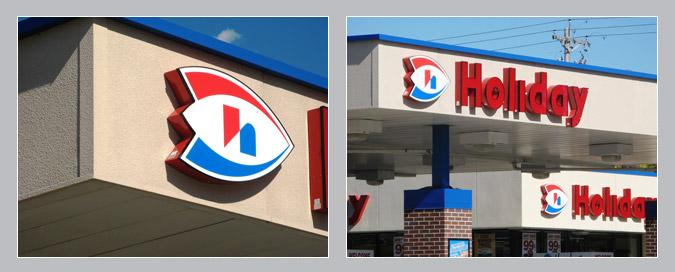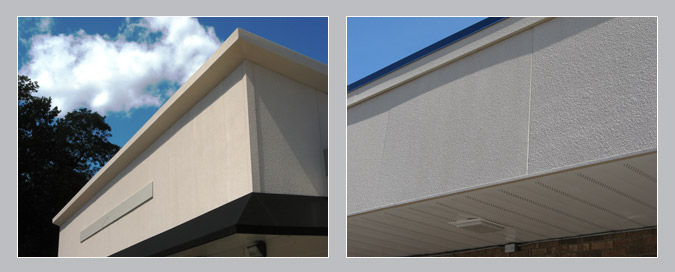 NLE Stucco Applied Panels - This product provides a wide variety of options for all of our wall panel systems in regards to texture and colors. This cost effective product is spray applied in a controlled environment and installed as a finished product.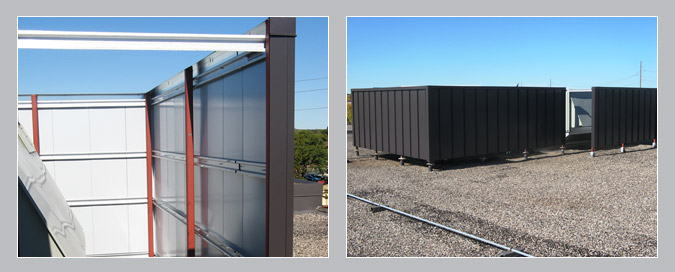 Equipment Screens - Nu Look Exteriors can provide aesthetically pleasing and durable equipment screens for commercial buildings. We offer a variety of panel systems including light gauge framing, standing seam panels, flush seam panels, or corrugated panels in a wide variety of colors to meet your needs. We also offer systems that allow us to accomplish this goal without penetrating the existing roofing.
Material Only Sales - Here is a small sample of the products we can supply. Please call or e-mail us with any questions regarding custom products you may require.
Coping Cap - with keeper & splice caps - curved or radiused.





Counterflashing





Drip Edge





J-Channel - vented or non vented





Standing Seam Panels - with snap on or boxed battens - straight or radiused





Flush Seam Soffit - non vented - single vent - double vent





Soffit Vent Strips






· Fascia
· Hips & Valleys
· Corrugated Decking
· Metal Shingles
· Gutters
· Downspouts